The interest of the media for the Rames Guyane race is constantly growing. A media plan is being developed by the Rame Guyane organisation to ensure maximum exposure of the event through the following axis :
A big part of the overall budget dedicated to marketing,
An accompanying sailing ship dedicated to audiovisual production, filming the skippers and boats on a daily basis,
Images and sounds of the race sent daily to TV channels, as well as French and European radio stations via satellite communication,
A presence in major international boat shows (Barcelona, Munich, Paris).
For these reasons, being a partner of the race ensures worldwide exposure.
The skipper aims to maximize publicity for the sponsors. Moreover, a documentary film will be created highlighting the event.
TV & Radio
Invitation to TV shows on French TV and radio (Guyane 1ère, KTV),
Reports on French national television (TF1, BFM TV, …)
Printed press
Articles in French newspapers (France Guyane, La Semaine Guyanaise) as well as space and navy specialized press (Latitude5,…).
Website
Most of the communication will be based on the Internet with :
→ This website, showcase of the project, including this dossier and pages dedicated to the partners
→ The Facebook page Cariacou Boto III existing for 5 years and counting almost 500 subscribers. It traces day by day the preparation of the boat and the race
→ The Facebook page of the organization with nearly 4,000 subscribers, and the website Rames Guyane with interactive maps to follow the position of the skippers in real time, and daily broadcast of skipper audio interviews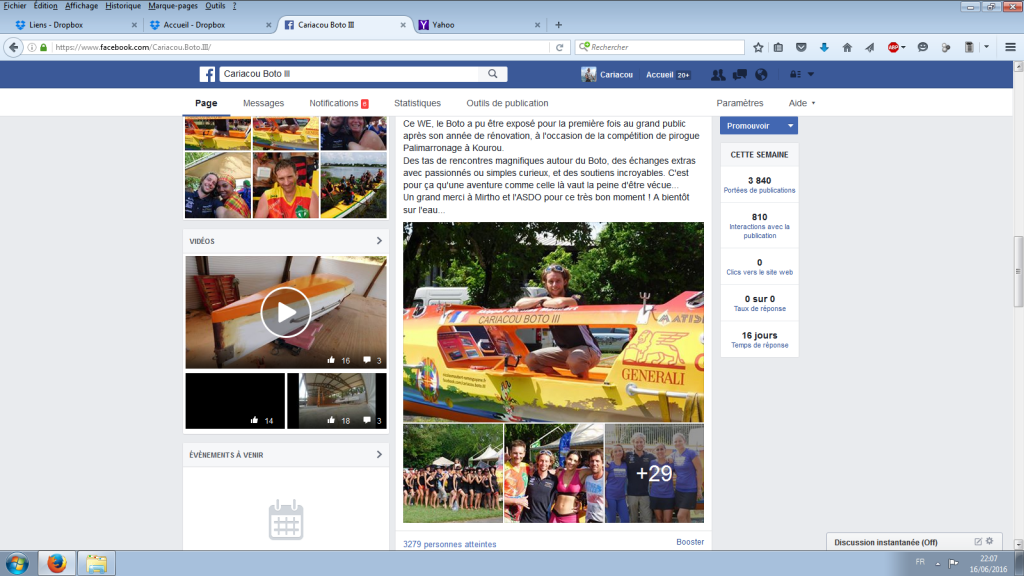 Movie of the adventure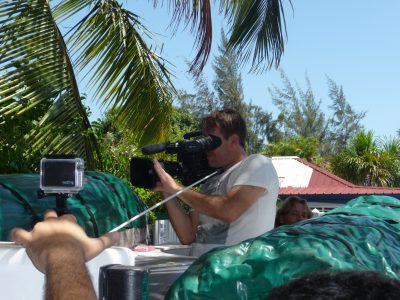 A movie will be produced to allow everybody to experience the adventure from the preparation to the crossing and up to the arrival in French Guiana !
This film of about fifty minutes will be broadcast by French Guiana cinemas and will be produced on DVD.
Educational: space serving the ocean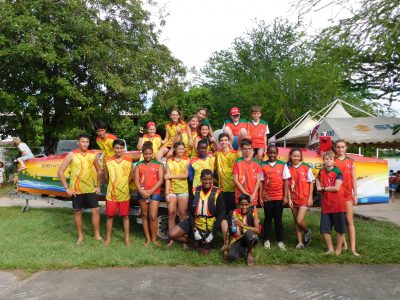 Fascinated by space and having always worked for space industry or agencies, the skipper wants to highlight space technologies serving ocean activities during his adventure. As such, space systems like navigation, communications, meteorology, Search and Rescue will be explained though various educational projects and in the movie of the adventure.
Several presentations will be planned in schools in French Guiana, France and Senegal in order to connect students from both continents, involve them in the crossing, and show them the importance of space and ocean environment
Events
Several events will be organized before and after the race.
A day dedicated to the presentation of the project and the boat including possible test drives for all partners,
Exhibition of the boat in strategic public places during sports or cultural events with possible visits of the boat accompanied by the skipper,
Exhibition at the Guiana Space Centre for one or more launches. During these major media events, many VIPs from administrations, governments and industries come to French Guiana to attend the launches,
Media coverage of some trainings (safety training, training on sea between Cayenne and Kourou or on rivers).