The boat : CARIACOU BOTO III
The boat is identical for all competitors. It is a 8-m long and 1.60-m wide skiff, with an empty weight of 475 kg (nearly one ton when loaded at the starting of the race). Designed by the architect Jean-Michel Viant, it is built in wooden laminated glass epoxy, and includes all the most modern safety equipment.
Prize list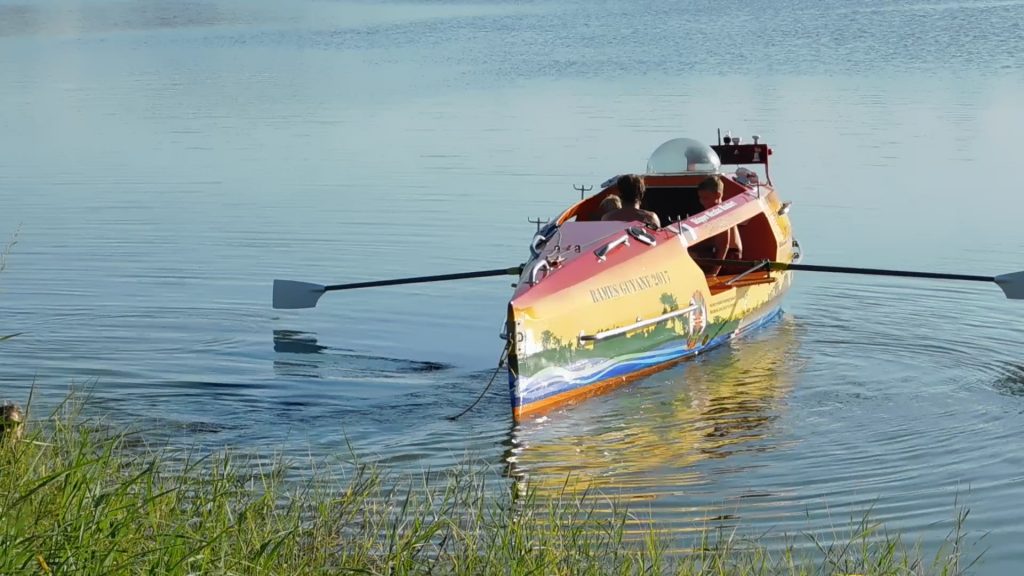 This will be the 4th crossing for Cariacou Boto III, which has received many safety, performance, and livability upgrades since its first crossing.
2009 : Patrick Deixonne, member of the Society of French Explorers (7th position),
2012 : Julien Besson (2nd position)
2014 : Harry Culas (has crossed but not ranked)
Nicolas will then attempt the conquest of the Atlantic ocean with a sure and proven boat.
Preparation and improvements
Since the last crossing, more than 500 hours have been spent for the full refurbishment of the boat, taking into account changes in gauge and improvements from previous race experience.
You can see the movie of this huge work HERE
Tembe Art

The sides of the boat are decorated by Tembe Art, an old art which has its origins in French Guiana. Four symbol are stamped on the boat:
– Guiana map, that represents home,
–  Wisdom to take good decisions during the crossing,
– Strength to help the skipper to row 10 hours a day during more than 40 days
– Gardian Angel to look after Nicolas and the Boat all along the crossing.